So it seems that scuba-diving archaeologists were looking for remains of Napoleon's defeat at the hands of Lord Nelson, when they accidentally discovered the sunken city of Heracleion instead.  This was the Egyptian city where Herodotus said that Helen had fled with her Trojan love, Paris.
OK so maybe it's no quite proof of the truth of the Hellenist religion, but if the city were called Sodom instead, you know that Jews and Christians would be calling that proof of their god(s).
Some of the ruins of this city are remarkably well-preserved, especially this obelisk inscribed with hieroglyphics.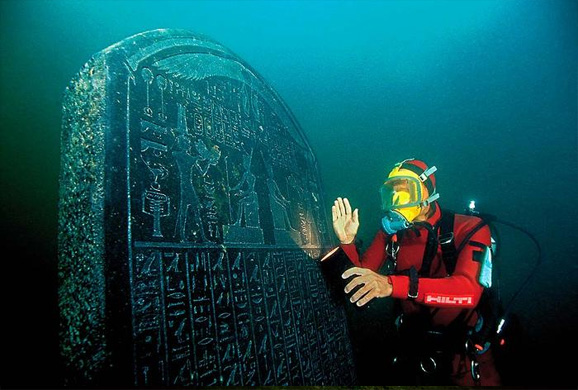 Apart from it's obvious significance as a text speaking to us from a lost civilization, it is also (I think) quite a beautiful object, and priceless as a work of art as well.
Whether it was rising sea levels or a sinking shore, the city was submerged by some point in the 7th century.  Bearing that in mind, look at this next image.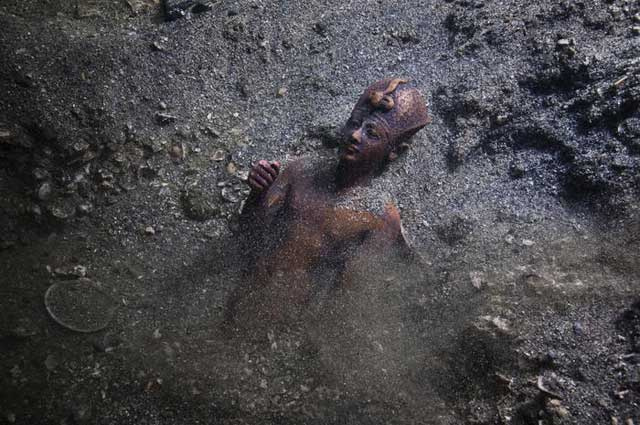 This elegant bronze statuette has not only fallen beneath the waves, it is being slowly buried as well.  Think of it.  To me, this artifact of our culture represents our impermanence, just one of the many accomplishments of humanity which will eventually be lost, reclaimed by nature, and forgotten forever, like every other trace of our species.  Knowing that, I take some delight in the idea that this piece at least was rediscovered and rescued to be appreciated for just a bit longer.