This is the conference I meant to attend, the one where they refunded my ticket after it was sold out. Organizers assured me it was just a problem with the computer system, and I believe that, since they never had an opportunity to look me up.
I still don't know if I would have gotten in though, because another guy flew here from Florida, ticket in-hand and was denied entry at the door, because they recognized his name.  I don't think that's fair, but Damon Rosen is listed as an Islamiphobe on Loonwatch.  So I'm not surprised.  I don't think I'm on any such list.
I'm still really pissed that I didn't get to go.  As I am not on the mailing list of the reactionary redneck league, I had no idea that there would be such a massive protest of the event.
See that guy at 8 seconds in? The one who says "It's THAT religion you need to fear". Here's where we saw him the first time, when he was protesting the Reason Rally in Washington DC.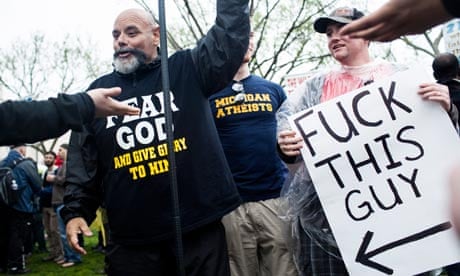 I've seen him a number of other times too, all over the country.  How does he manage to travel everywhere, spreading hatred, and protesting reason wherever he goes?  So this time, he was in my neighborhood. Think of the video I could have made out of this!
The Muslims were even catching Hell from the Patriot Guard Riders.  I was IN the Patriot Guard Riders once upon a time! They're a biker group formed to block the Westboro Baptist Church from ruining soldiers' funerals.  When did they become a hate group?  So many confrontations for one venue!
Had I been able to get my ticket properly, I would have had notes or recordings of the event, and I would have been able to interview speakers or representatives on my podcast.  I might still be able to do that.  I've contacted organizers asking for a representative to be be on the show.  The purpose of which is to talk about the image of Islam in America. So we will talk about Charlie Hebdo, Damon Rosen, Raif Badawi, and probably any other relevant topic my audience suggests between now and then.
Event speakers say that Islam has a bad reputation because of the media.  While I agree that American news is often biased, sensationalist, inaccurate, deceptive, and unreliable, I still do not think they're to blame for Islam's ill-repute.  I have my own opinions of course.  I'm an antitheist, and I am not as sympathetic as some other liberals are. But neither am I a bigot.  I hate prejudice more than I hate religion.  So I don't expect to contribute to the problem.
I don't yet know who we'll get on the show, and am still taking suggestions.  We might end up in a fight by the end, but that depends on my guest, and what he or she says.  I'll be as generous as I can be.  At the very least, I will be fair.  When I interviewed Hamza Tzortzis on the Magic Sandwich Show, he told me that decapitation was the most humane way to deal with apostasy.  As soon as he said that, all civility was lost.  That's why this time, I'm hoping to talk with a more reasonable person.