When I first saw this fantastic color-enhanced electron micrograph image of this millimeter mite, I didn't recognize it. At first I thought I was looking at something shown at actual size, and that it might be an experiment in man-made robotics. This thing does not look like an natural animal; it looks like it's made of fiber optics and plastic fittings shrouded in a canvass pressure suit.  So it's not surprising that the tardigrade (water bear) is the one animal on this planet that is capable of living unprotected in outer space. If we dropped some of them on Mars, (with a modest ration of lichens) they could just go on living there forever with no other provisions necessary.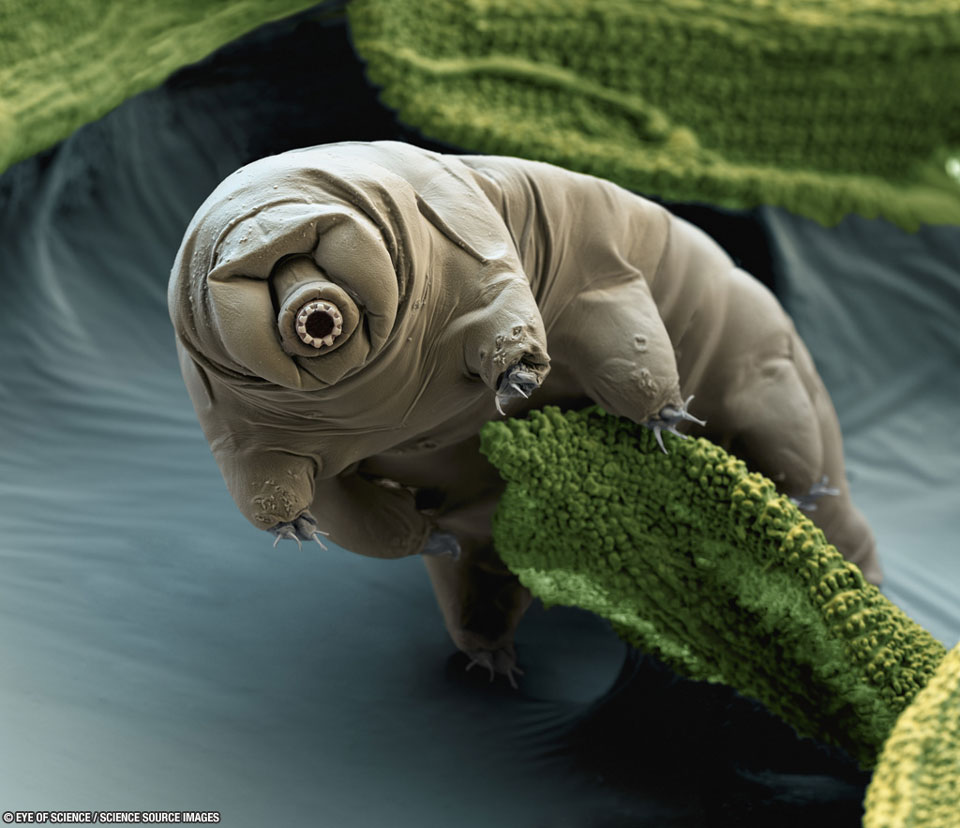 According to the Astronomy Picture of the Day archive, the tardigrade can go for decades without food or water! They can survive temperatures from nearly zero KELVIN to well above the boiling point of water, because they can actually dehydrate themselves for storage in stasis. They can survive pressures from near zero (space) to well above that on the ocean floor. They can survive direct exposure to dangerous radiation because they can even repair their own DNA!
That means they evolve awfully slowly. They're ecdysozoans, and one of the most basal of all bilateral animals. There are roughly 500 species known since their discovery in the 1700s, but they also show up in microfossils dating all the way back to the Cambrian! That's only one new species every million years and they can survive anything. If evolution were a game, these things win!